HNB Engineers Pvt. Ltd. has been a pioneer in Municipal Wastewater Treatment and has kept itself in tune with the times by understanding and rapidly evolving with changing markets scenarios. A strong affinity towards innovation can be seen in each aspect of the many products and services provided by the company. We draw immense pride from having carved out a niche for itself in the wastewater management and reuse sector.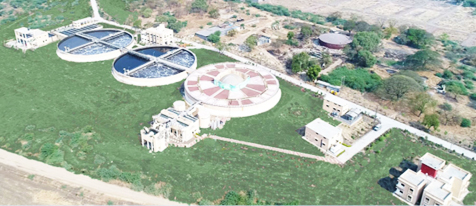 With great Emphasis on Innovation, Leadership and Quality – HNB has consistently delivered successful projects.
We are a dedicated team of Designers, Constructors & Operators on a mission to clean the environment. We have focused on Sewage Treatment and its Reuse and have developed a range of innovative treatment technologies that can cater to different requirements. Good Quality and Reliable Performance are at the core of our Projects.

Our mission at HNB Engineers Pvt Ltd. is to deliver highest quality products and services to our clients. We shall anticipate client needs and nurture our employees to help satisfy the same such that a sustainable and long term business model is created.

HNBEPL is executing works in various fields of Civil Engineering with excellent quality, speed and absolute economy to the entire satisfaction of clients in India since last 49 years.

At HNB Engineers Pvt Ltd., our vision is to become a world leader in Wastewater treatment with a strong emphasis on innovation, customer satisfaction and high performance.

We are executing complex projects involving Civil, Mechanical, Electrical & Instrumentation Engineering with high quality and speed to the entire satisfaction of our clients for the last 50 years.
A strong team involving operators, junior staff, middle management and upper
management work in synergy to deliver quality projects. We recognize that Teamwork and Collaboration are the keys to unlocking
the huge potential of Collective Effort. Our team is guided by a capable leadership team to shape ideas into reality
Mr. H N Bhat: Founding Father of Company (1950 – 2020)
HNBEPL was founded by Mr. H. N. Bhat in 1973. It is due to his unwavering emphasis on innovation and excellent managerial skills, the company has grown in stature and has become an admirable workplace. His achievements in the field of Wastewater Treatment are admired by one and all in the sewage treatment industry. He has a Patent on Improved Bio-Tower technology. More recently, he has developed a new process in Wastewater Treatment called Combitreat Technology that generates power from hydroelectric as well as bio gas engines. Mr. Bhat has received numerous accolades from respected organizations such as Pimpri Chinchwad Municipal Corporation and Builders Association of India for his invaluable contribution in Waste Water treatment industry. He has authored numerous patents in the field of Wastewater Treatment for improvement in existing processes and also patents for invention of new equipment that deliver greater operational efficiency. His ideas, ideals and work ethic continues to inspire us even today.
Mr. Subodh Nandode: Managing Director
With a vast experience of 35 years Civil Engineering and Business Administration, Mr. Subodh Nandode is truly a strong pillar of our company. He has been a part of this organization for the last 30 years and has a lion's share in the success and growth of the company. He completed his Bachelors in Civil Engineering from MIT, Pune then Masters of Engineering in construction management and further enhanced his business administration skills by pursuing MBA. He continues to remain a valuable asset to the company and his discipline and sound work ethic serves as an example for one and all in the company.
Mrs. Suvarna Bhat Joshi: Joint Managing Director
She is one of the next generation directors of the company and has been actively working in the company for many years. She has completed her Bachelor's degree in Civil Engineering from Sinhgad college of engineering, Pune and then completed her Masters in Construction management from University of Southern California, Los Angeles. As a strong supporter of environmental friendly construction she is also a LEED accredited professional. She continuously strives to drive the company's progress to match superior standards with the help of latest technologies.
Mr. Aditya Bhat: Joint Managing Director
He has completed his Bachelor's degree in Civil Engineering and later Masters Degree in Civil & Environmental Engineering from Stanford University, USA. He brings with him, experience in the domains of operations and project implementation. He places strong emphasis on timely execution of projects with highest degree of quality. He has promoted the use of modern technology in the form of softwares as well as hardware to streamline processes and ensure smooth operations.
PIMPRI CHINCHWAD MUNICIPAL CORPORATION (PCMC)
NAVI MUMBAI MUNICIPAL CORPORATION
UTTAR PRADESH JAL NIGAM (UPJN)
NEW OKHLA INDUSTRIAL DEVELOPMENT AUTHORITY (GNOIDA)
UTTARAKHAND PEYJAL NIGAM (UKPJN)
GUJRAT URBAN DEVELOPMENT CORPORATION (GUDC)
AHMEDABAD MUNICIPAL CORPORATION (AMC)
DAVANAGERE CITY CORPORATION THROUGH KUIDFC
CITY AND INDUSTRIAL DEVELOPMENT CORPORATION OF MAHARASHTRA LIMITED
PUNE MUNICPAL CORPORATION
SOLAPUR MUNICIPAL CORPORATION (SMC)
GOVERNMENT OF GOA, PWD GOA
GREATER NEW OKHLA INDUSTRIAL DEVELOPMENT AUTHORITY (GNOIDA)
YAMUNA EXPRESSWAY INDUSTRIAL DEVELOPMENT AUTHORITY (YEIDA)
GUJARAT WATER SUPPLY AND SEWERAGE BOARD (GWSSB)
KARNATAKA URBAN INFRASTRUCTURE DEVELOPMENT AND FINANCE
CORPORATION (KUIDFC)
BANGALORE WATER SUPPLY AND SEWERAGE BOARD
CENTAL PUBLIC WORKS DEPARTMENT